COMMON TOOLS
Hang in there because we are almost done with the tools. We are going to need a drill press. Nothing fancy is needed here, a $60 machine will be fine. If you already have one in your garage that is a great start.  What we will need to be able to do is make a number of holes in the receiver to install the internal parts and possibly create holes to rivet the trunnion. The holes are going to need to be straight and we are going to have to be able to lock the receiver in place to keep from ending up with oval shaped holes.  This is where a drill press vice comes in handy, they are inexpensive. If you already purchased the finished receiver just remember that unless you got a kit with an installed barrel you will still need the drill press. The reason is that if your barrel isn't already populated with the barrel parts we will be using the drill press to create the slots for the retaining pins.
That is it for the expensive stuff. Other things that will come in handy will be pin punches (Home Depot or Lowes), a hammer, drill bits, reamers, and end mill bits (easy to find online). We may be making 3mm, 4mm, 5mm, and 7mm holes. So a 3mm bit (maybe 5 and 7mm ones too), 4mm and 7mm end mill bits, and 5mm and 7mm reamers. If your anything like me it doesn't hurt to have a bunch of extra drill bits, and end mill bits, they are cheap and I'm pretty good at destroying them. Also it is nice to have some grease and a can of W2 and liquid wrench available.  The liquid wrench is
really useful if you have to demill your kit.  I plan on doing a section on demilling, it can be an aggravating process sometimes.  All these items are cheap and easy to find online. Also, a bore laser will come in handy. You can get one for very little money.  These work really well for installing the front sight so that it is on straight.
FINAL THOUGHTS ON TOOLS
We are going to talk about choosing a parts kit in the next section. I promise this is where it starts to get fun. Pace yourself with buying the tools, I spent about six months collecting them before I started my first build. Before we start on the kits I want you to understand that our discussion on tools in a generalized one. There are different paths you can choose to accomplish your goal of assembling a rifle. Also there are differences in the kits; some more "build ready" then others. So what tools you will need is dictated by the kit you choose and the method you choose to build it. Think ahead and watch some videos and read through this tutorial. Know what you're going to do before you get started, then you will know what tools you will need for your particular build. My point being don't run out and start buying tools right away.
For your first build start by deciding whether or not you may ever even want to do this again. I don't want to dissuade you.  You can do this and you will be happy with the results, but you should be doing it because you want to. Don't do it just because you want an AK. If you just want an AK then go buy one, it's not worth the investment in tools and time if that is all you want. It will be most cost effective for you to buy a ready made receiver if you only intend to do this one time. Again you may not even want to do a build if you only intend to do it once.   If you just want to try it once and see how it goes, then you may just want to buy a  receiver so you can skip over a lot of the hassle and cost. If you like that, then maybe consider buying a few basic tools.  It will defiantly make your first build easier. If your first build goes well and you enjoyed it, then you may be inspired to start investing in some of the tools. Test the water and experiment some.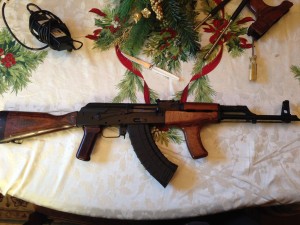 For me it was a little bit of both. I did spend about six months slowly acquiring the tools and by the time I was done with my first build I decided to get some more tools to make some things easier. I don't regret it. I have enjoyed it greatly so far. And now I'm saving money on the rifles themselves. After paying the price of getting started by purchasing the tools, now I am in a position where I can currently save approximately $200 dollars on a rifle by building the rifle as opposed to buying it from a dealer and I don't have to go through the hassle of dealing with and FFL dealer.  Possibly consider if you have any friends that may be interested in trying this out.  Getting several people involved helps to reduce the start up cost in tools and everybody wins by getting a rifle for a great price. And honestly it is one of the few hobbies I have discovered that I truly enjoy. Nothing is more fun for me then opening up a new parts kit or seeing the fruits of my labor in the form of a new rifle. Well maybe a few things are more fun, but not many.
HEAT TREATING
I'm going to be very brief here. This is something we will cover more extensively later. Again, unless you decided on a ready made receiver, we are going to have to do some heat treating. The 80% blanks and the receiver flats are not heat treated. Me being a layman, I will give it to you in layman's terms. Heat treating, as I understand it, is a process that introduces carbon and heat to the metal causing it to become harder. That is just about the extent of my knowledge of the process. The good thing is that you don't really have to understand it very well to do it. Contrary to some critics you don't have to be a rocket scientist to pull this off.  Of course we are not experts in this field, however we are perfectly capable of hardening the metal to tolerable levels.  Many people have used various process of heat treating to forge receivers that stood up to many years of firing.  I personally have had rifles that I have fired many rounds through that are perfectly functional today.  Some critics argue that you risk catastrophic failure if you don't know what your doing.  Well maybe in some circumstances, but with the AK the design dictates that the explosive detonation of the round is contained in side the barrel / bolt / trunnion.  Not in the receiver.  The receiver of the AK only really holds the components together and provides a support structure for the bolt carrier to ride in and out of battery.  There is no built up gas pressure contained in the receiver.  Your tack welds on your bolt guide rails are more likely to fail and cause a major mishap rather then any catastrophic failure of the metal in the receiver.  My point is this, this is one of the roadblocks I hit along the way, I again considered stopping at this point.  I was worried I didn't know enough to proceed.  I read things like this forum.  I suggest you don't let other people tell you what you can and can't do.  Don't let someone tell you that you can't do it, try it and see what happens.  Be bold and try something new.
When these flats are stamped out they are softer metal then what we require. Firing the rifle is going to create wear and tear that at least some parts of the receiver need to be able to endure the stress of. There are a number of people out there advocating different ways to do this. One example being to burn the bolt rails in brake fluid. I have also heard about using a torch to heat up the axis holes (where the internal parts will be mounted in the receiver) and dipping them in motor oil or salt water to introduce the carbon and rapidly reduce the heat causing the steel to harden. I'm sure that some of these methods work well and are
easy to do, but I wanted something a bit more. I was inspired by a video I watched on Youtube titled "Full heat treat of AK receivers". What it advocated in the video is the use of a kiln that would typically be used to fire pottery. I was able to obtain a used older model kiln that works just fine. I got mine off of Ebay for $150. I've seen quite a few of these available for local
pick up and they were not terribly expensive. The only problem with these is that the temperature in them is not typically electronically controlled. They generally use a ceramic cone that is inserted into the kiln that melts and trips a trigger once a certain heat is obtained. We will discuss heat treating later, but know that in the process certain temperatures must be obtained and then maintained. So we don't want the kiln tripping off once a certain temperature is reached. How do we fix this? Isn't Youtube great? Don't know something, look it up on Youtube. A device called a PID is available that can be rewired into the kiln to allow you to electronically control the temperature. Again hit up Ebay and you can have one of these for less than $30. And a gentleman identifying himself as Caleb Piercy produced a nice video providing instruction on its installation and set up, I have provided a link in the picture below. I'm not going to lie to you and tell you I had a good time wiring it up. It was a struggle for me and it left me uttering a few choice words, but I got it right eventually and it works well.
If you choose this route, it is something you're capable of doing. Of course you don't have to do what I did. If you decide you will try one of the other methods just remember to focus your attention on the areas that will take stress from moving parts such as the bolt guide rails and the axis pin holes. That was a bit more then I intended to get into with heat treating for the time being so let's be moving along.
I really don't get too excited about the tools portion of the build, like most of you probably are, I'm inspired by the gun.  The next section may be the most thrilling part of the build, picking out a kit.  I will point out some good vendors and talk about things to pay attention to.  I will also cover legality in this section as we are beginning to come to the point where we will be assembling a firearm and it is important that you stay on the right side of the law and follow the rules.