THE BARREL PRESS
In this section we will discuss some of the specialty tools that may be used in your build.  The very first thing we will need to be able to do is remove the barrel.  Regardless of whether you decide on a kit with an installed barrel or you choose a kit without an installed barrel, you will still need to be able push the barrel in and out of the trunnion (if you don't know what a trunnion is, don't let it bother your right now, I will show you). The reason for this is simple. When the barrel is installed in the trunnion, it covers the holes where the rivets will be installed and prevents their installation. So, even if the barrel is head spaced and pinned into the trunnion, it will still need to be removed for assembly of the receiver.  This is the AK-builder press kit depicted.
Installing and removing the barrel is easy with the right tools. I have seen tools employed to remove the barrel that involved the use of threaded bolts that require tightening to apply pressure to the barrel, and those devices are available if you search for them.
One such tool is available through a company named Toth (http://www.tothtool.com/). They call it an AK barrel removal tool. I haven't used one, but they look like they might be nice to use, because they allow you to very slowly move the barrel. The problem with the press is that it will occasionally bind up and then when it does break loose it moves the barrel too far. This tool, I'm sure, would be very nice in that it would allow you to make very small changes in the position of the barrel for adjusting your head spacing.  Last I checked though they were asking $80 for it. Not a big deal but, there was an $80 tool to do the regular trunnion and one for a bulged trunnion an additional $80. That's $160 dollars where you can just buy yourself a press and use it for everything to include your rivets and barrel pin. An $80 or $160 dollar investment here and you will still need a way to crush rivets and press the barrel pin in and out.  Toth makes a number of tools for populating the barrel and various other tasks, check out their web site for more information.
I like to keep it as simple as possible, so I went with the purchase of a 12 ton shop press. This I'm sure is the more common method used. You just have to decide what you have money and space for and how many builds might you do. A good shop press can be had inexpensively and you will use it a lot during the build process. You will use it in crushing rivet heads as well as barrel installation. A 12 ton shop press is available from Harbor Freight for $130. It is an easy to find tool and you may find it other places for less. If you have room for it, I promise you will get your use out of it and be glad you spent the money on it. It will take up a little room in your garage shed or basement but it will make things much easier on you. My advice to you is that if you have the room, get it, it will be the most used tool you have during the build.
The second item you will need for installing the barrel with the press is a barrel press kit. This will provide the small tools necessary to allow you to apply pressure with the press onto the barrel and barrel pin, and to position the trunnion and barrel. These are specialized tools and are not as easy to locate. You can find these kits on Brownells website by doing a quick search or, AK-builder.com. I'm sure there are other places to locate these kits but the price will be about the same. This will set you back $95.
Starting to feel like this is getting expensive? I'm not going to lie to you; it isn't the cheapest hobby to start out with. But, consider these as start up expenses. Purchase them once and use them on as many builds as you like, you will never need to buy them again. Also, bear in mind that when you are set up to build you will no longer need to rely on an FFL dealer for your gun purchase and after several builds the tools pay for themselves in money you save on buying the rifles.  Only after a handful of builds it will be cheaper for you to build your own rifle then it is for you to buy one out right.  And last but not least, if you loose interest in the hobby some day you may be able to recoup some of the cost in tools by selling them. Some of the specialized tools you may be able to easily sell on gunbroker.com or a similar site.
RECONSTRUCTING THE RECIEVER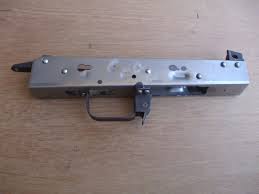 The reciever is the heart of the rifle.  It is where the overwhelming majority of your work will be focused during your build.  Here is where you are going to have some choices on how to proceed. Let's go from the simplest to the hardest. The simplest thing for you to do is buy a finished receiver for your rifle. NoDak Spud (nodakspud.com) sells finished receivers for a variety of AK rifles. Just find your rifle and order the receiver. The positive is that you don't have to invest in any tools for this step and the work is already done for you. Also the receivers come fully heat treated which is a big plus. For sure you can find receivers through other vendors also. The down side is that you can expect to drop $90 and up and these are treated just like firearms so call your FFL dealer and expect him to take his cut. They will have a serial number stamped on them and again, you will need to transfer this through a licensed FFL dealer to yourself. The FFL dealer will charge you a fee for this possibly $25 and up. Also the receiver will be shipped to the dealer and not to you, so you will have to pick it up from him or her.
The next option you may choose is to purchase an 80% blank receiver. This is not a bad option as they come already bent in a "u" for you. So you will not have to worry about bending them into shape. In theory this may save you some money. Now the negative is that they are not heat treated (a process we will discuss) and none of the holes are drilled for the installation of the internal parts. You will need to buy a receiver blank drilling fixture that provides guide holes for you to drill the necessary holes in the right locations in the bent receiver. If you choose this option AK-builder.com is your one stop shop. Other vendors offer it as well such as Brownells but the cost will not vary greatly. It will set you back about $90.
The last option in receiver construction is to use a receiver flat. These range in price from $27 to $35 or more. They come as a stamped flat piece of metal. They will typically have holes already drilled for the internal parts and might even have holes predrilled for the trunnions. Also these are not heat treated. These can be bought from Tapco (they have a full list of distributors on their web site), AK-builder, and brownells.
For this method you will need to buy a flat bending die. These are expensive, $170 from the same previously mentioned vendors. They come in two parts, a punch and a die. The die holds the receiver flat while the punch is pressed into place with the 12-ton press (I told you that you'd be using that a lot) creating the "u" shaped receiver. Also an additional die might need to be purchase for bulged trunnions, $65, depending on the variety of AK you choose to build. You may in fact be able to buy other tools out there that will also bend the flat, but it is a very important step and it needs to be done correctly.  You may invest in a less expensive tool and be unhappy with the results.  One the flip side, you may try out a less expensive tool and be happy with the results.  I can say from experience that his tool will work and do it well.  The choice is yours.  This is a bit more expensive as a start up, but this is my chosen method for a few reasons. My first reason is that, while it is an expensive start up cost, the tools are well built and will last through every build you could ever want to do. The second reason is
that it seems to me that there are many more options available to you in choice of receiver then what is available to you using an 80% blank. The price for the receiver itself is not that much different between the blank and the flat, but you tend to be more restricted with the blanks.  Also you might be struggling to find the right 80% blank for you build. Plus you will not need to drop the money on the drilling fixture.  It's a lot to consider, but the goal is the same. The biggest consideration in the beginning is really what is most cost effective to you. If you only intend to do one build you may be best off just buying a completed receiver. If you intend to do this repeatedly, then invest in some tools, they will pay for themselves after only a few builds.
RIVET JIGS
So now we can take the barrel on and off and we should begin to have an idea of how we would like to recreate the receiver. The next tool we will need is a rivet jig or some equivalent. The goal here is to be able to hold the rivets in place while we crush one end of them. This binds the receiver to the trunnions. I have seen modified bolt cutters being sold for $65 give or take. This is a nice cheap option, but they will not crush the long rivets or the trigger guard rivets. There are other options out there, but the thing to remember is that you need to be able to do three things. You need to be able to crush long rivet and short rivets, you need to be able to create dimples to seat some of the rivets, and you need to be able to rivet the trigger guard. Keep that in mind while you are exploring options. This also will be a specialty tool and can be more difficult to come by. What I mean is that you won't find it in your local hardware, it is readily available online though.
You may likely end up buying separate jigs to do the trigger guard rivets and the short and long ones. The cool thing about this is that there have been some skilled machinists out there that have manufactured their own riveting tools and have sold them online on sites such as gunbroker.com. That is what I picked up, a homemade riveting tool very similar to AK builder tool pictured here. What I would suggest is that you look around first to see what is available and then consider picking up an AK-builder rivet tool. This will cost you $250. Pricey, I know, but take heart; we are about done with the big-ticket items. Plus, these are heavy duty and very well made, it will last you through pretty much any build you do in your lifetime.
Whether you decide to purchase a receiver or manufacture your own, you will still need to be able to rivet. Unless you are doing a screw build this is a step and a tool purchase that you cannot avoid. So just to extrapolate a bit, do a Google search for AK riveting tool and surf a little bit. You will see that there are tools that will do just long rivets; tools that do short rivets, and tools that do trigger guard rivets. The AK-builder tool will do both long and short rivets. I have seen jigs sold on gun sites that claim to be able to do all three. I bought mine on gunbroker. It does long and short rivets. I have done builds without the trigger guard rivet tool, but
I eventually bought one, and I don't regret spending the money. It's cleaner, easier, faster and causes me less stress. I will tell you how you can get around buying the trigger guard-riveting tool later, but remember what I said. One last thought in regards to riveting tools. If you do invest in one such as the AK builder device and after a few builds you decide that you have gotten your use out of it, again, just sell it. You will be able to recover a lot of your investment. List it on gunbroker at a reasonable price and I guarantee someone will pick it up.
SPOT WELDER
Unless you decided on buying a completed heat treated FFL transferred receiver, you are going to have to be able to install the bolt guide rails. This goes for both the receiver flats and the 80% blanks.
It was at about this point in time while I was trying to get the tools together to do my first build that I really began to have doubts. I knew that I was going to need to be able to spot weld the bolt guide rails into place. The first place I looked to buy one was Harbor Freight. Harbor Freight 120 volt spot welder …$180.  My wife was already becoming unhappy with my new hobby. I wasn't sure I could justify spending anymore on tools to her.  I came really close to giving up here. Real close. Maybe you have more money than I do, but it all started to seem to be adding up by this point. Here is where I can throw you a bit of a bone. One of the coolest things I have ever found on Youtube, the do it yourself spot welder. I am not even going to try to teach you how to do this. There are
people much smarter than I am that have already provided some excellent source material here. Check it out. I built my own in one evening. Mine ended up costing me $50 and that was only because I did not have an old microwave lying around I could scavenge parts off of. I bought my microwave transformer off of Ebay and picked up the other parts at Home Depot. Best thing about it is it works great. Don't be afraid to try this, if I did it, you definitely can. Just closely follow the instructions and you can save a bit of money. Here is a great Youtube video on how to build a do it yourself spot welder.  Now, of course if you're rolling in dough, go ahead and buy yourself the Harbor Freight one or an equivalent.
In the next section we will begin by discussing heat treating and some of the commonly available tools you will need for your build.